Welcome to Interlochen Public Library
IPL offers various collections of media and formats to meet the needs of our diverse population.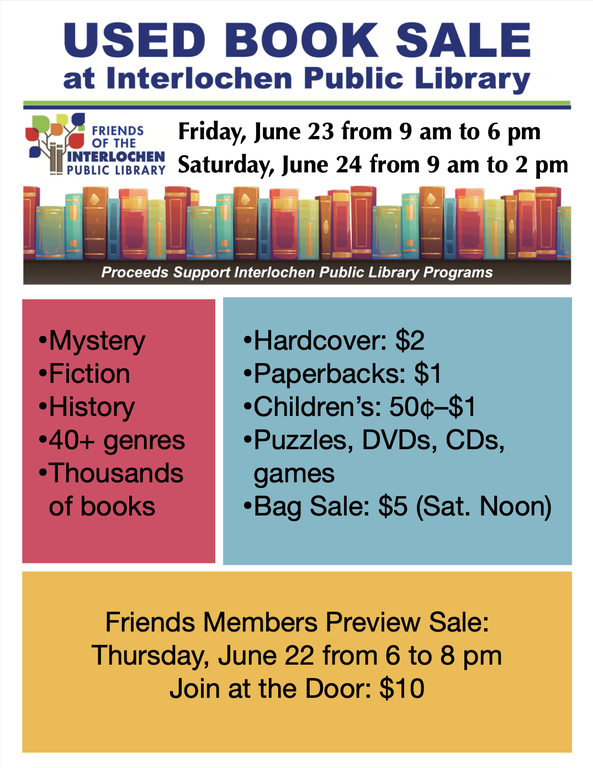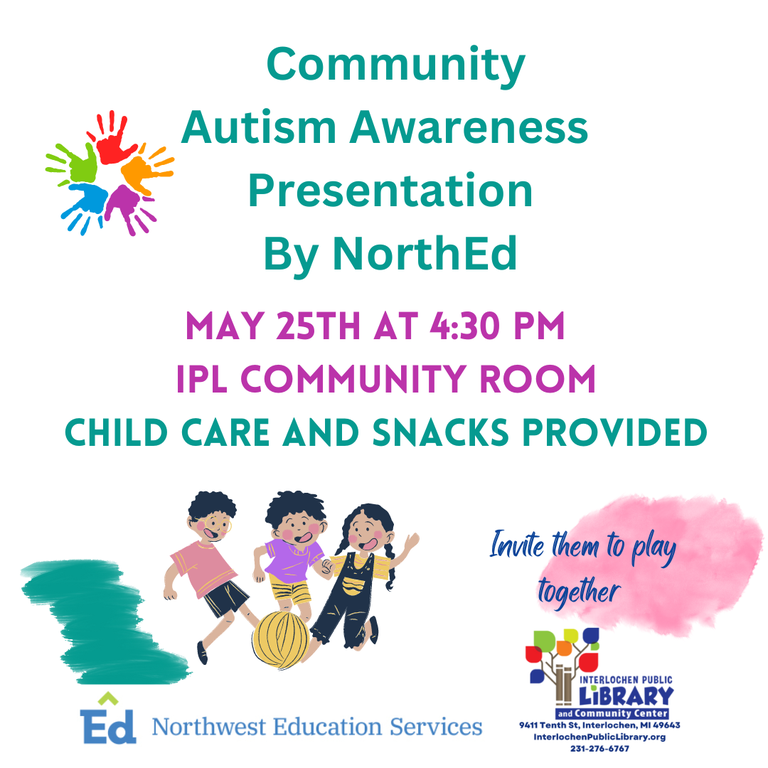 Join us for a 30-45 minute presentation by Northwest Ed's ASD Consultant, focusing on the impacts of autism and strategies to try in the home or community. This training uses innovative and emerging theories, interventions, and approaches to provide professionals, parents, and community members the information needed to impactfully support people on the autism spectrum (in school, at home, at work, and in the community). NorthEd will describe practical tools and strategies to help participants be proactive and confident in supporting individuals with autism in various settings. Childcare and snacks are provided.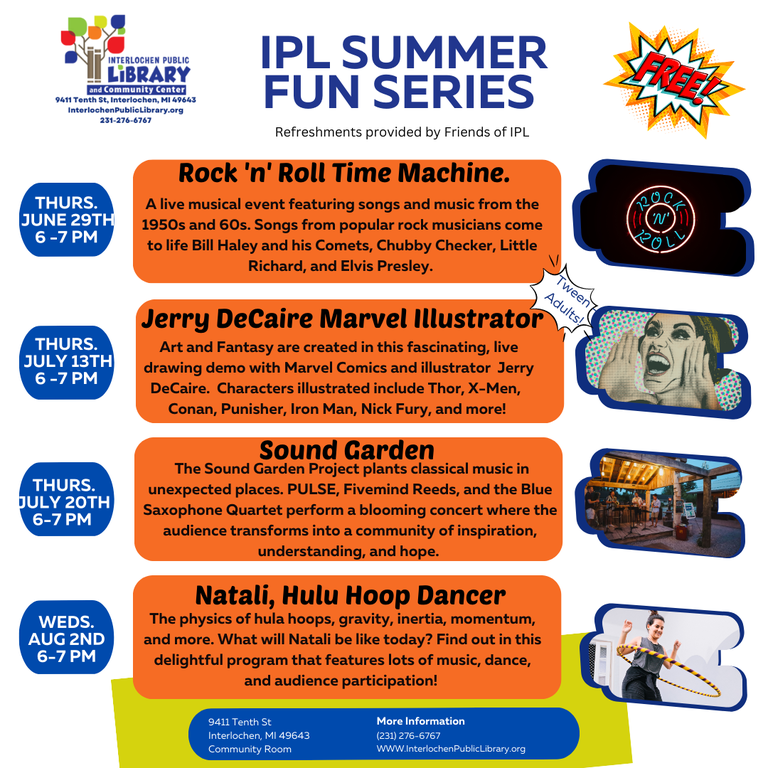 Jun 29  Summer Fun Series: Rock 'n' Roll Time Machine at Interlochen Public Library
All ages will enjoy this free Summer Fun Series: Rock 'n' Roll Time Machine, a hip hoppin', toe-tappin', live musical event, 1950's & early 60's music at Interlochen Public Library.  Join us Thur., Jun 29 at 6 pm to experience songs from famous rock musicians come to life; Bill Haley and his Comets, Chubby Checker, Little Richard, and Elvis Presley.  Live music, comedy, and dance.  Get ready to rock 'n' roll back through time!  The Friends of Interlochen Public Library provides refreshments.  For more info, call the library at 231-276-6767.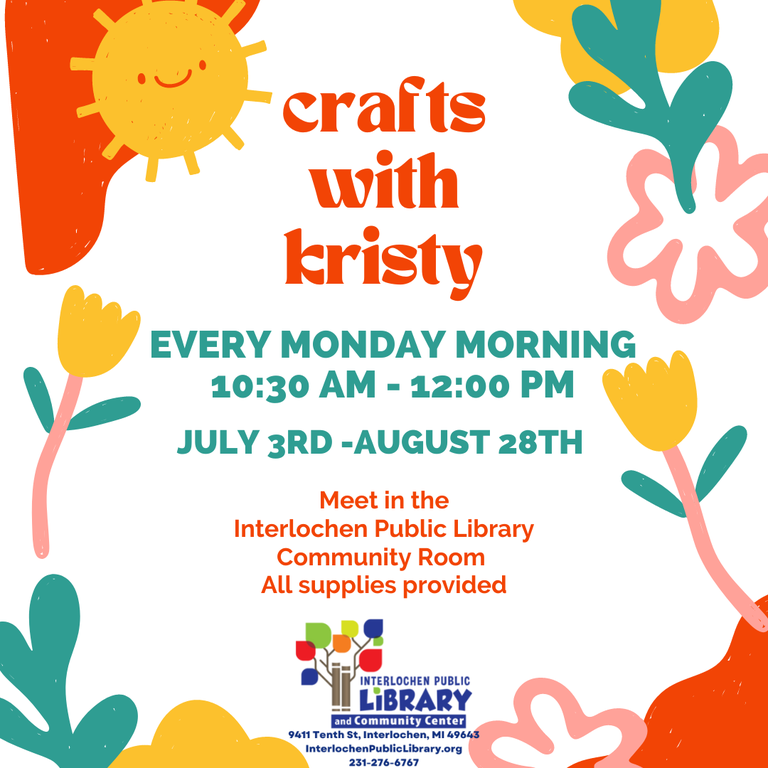 Crafts with Kristy. Join us for nine weeks of exploration, creativity, and fantastic art and craft making! Each Monday, July 3rd through August 28th, from 10:30 am to noon, meet in the IPL community room for Crafts with Kristy. Kids will learn and practice different crafts skills. Ages 5-12 y/o, but all ages are welcome. All supplies provided.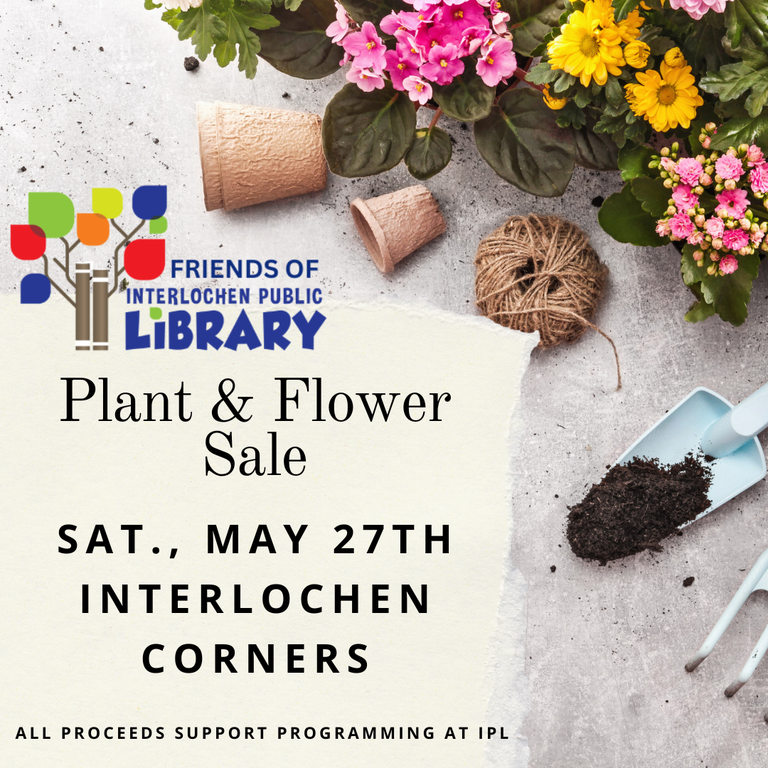 Are you dreaming of Gardening? Join the Friends of IPL at the Annual Plant and Flower Sale at Interlochen Corners on Memorial Day weekend, Sat., May 27th. There is a wide variety to choose from, whether attracting pollinators, discouraging browsing deer, filling a shady nook, or fragrant scents. All proceeds support programming at IPL.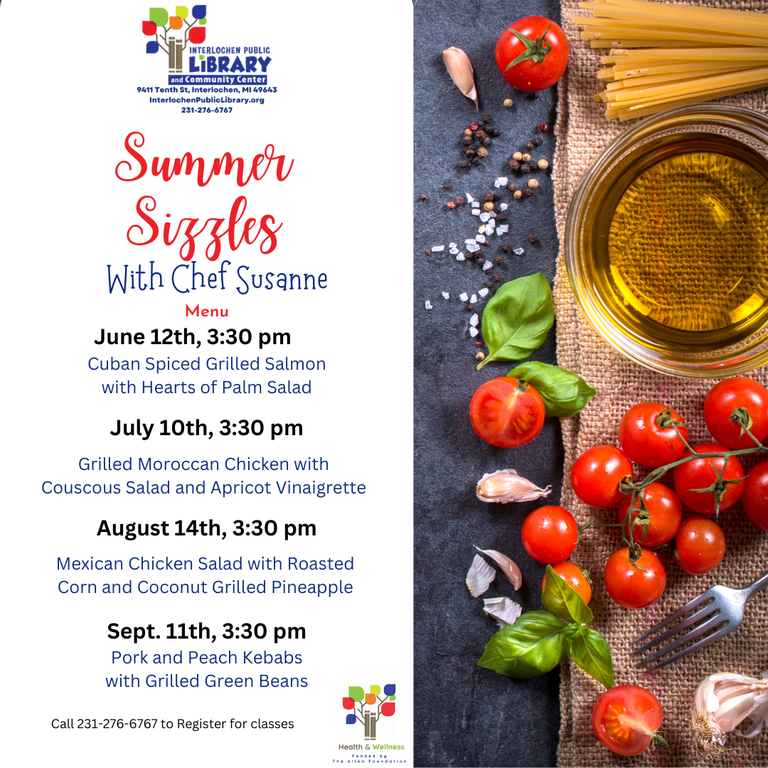 Summer Sizzles with Chef Susanne. The community is invited to participate in our free Health & Wellness: Summer Sizzle Cooking Class at Interlochen Public Library on Mon., Jun 12, 3:30-5 pm. We will feature grilling techniques and fresh summer produce. Travel the world with chef Susanne while making a healthy new recipe each month paired with our signature mocktails. Classes are limited to 10 people. Registration is required by going HERE. This Health & Wellness: Live Your Best Life class is funded by the Allen Foundation. For more info call the library at 231-276-6767.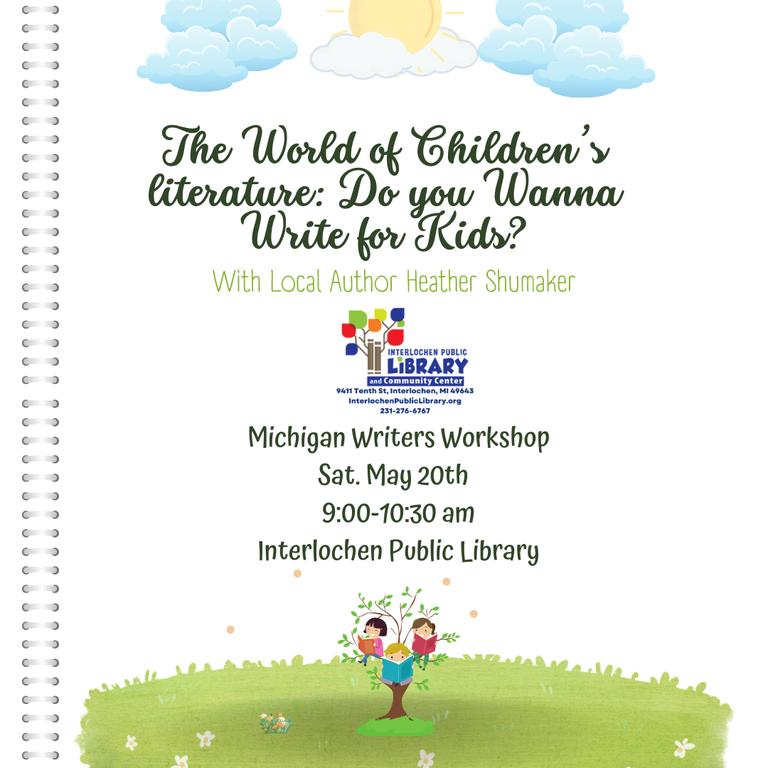 The World of Children's Literature: Do You Wanna Write for Kids?
Have you always wanted to write for children? Learn more about the world of children's books, from writing to publishing. The story might be short, but the idea must be tall, and every word should count. We'll explore writing for children, from picture books to novels. Bring your ideas, writing supplies, questions, and enthusiasm. Click HERE to register. 
Bio 
Heather Shumaker is an author of books for kids and adults. Her most recent book, The Griffins of Castle Cary, is an award-winning middle-grade book, selected as the best Children's Fiction book by the Society of Midland Authors. She's also the author of 
Saving Arcadia,
It's OK Not to Share, 
and It's OK to Go Up the Slide
, and
 her books have been translated into Arabic, Chinese, French, Korean, Romanian, and other languages
. Heather co-hosts the children's book podcast BookSmitten and speaks nationally at conferences, schools, and libraries. Heather lives in northern Michigan with her family.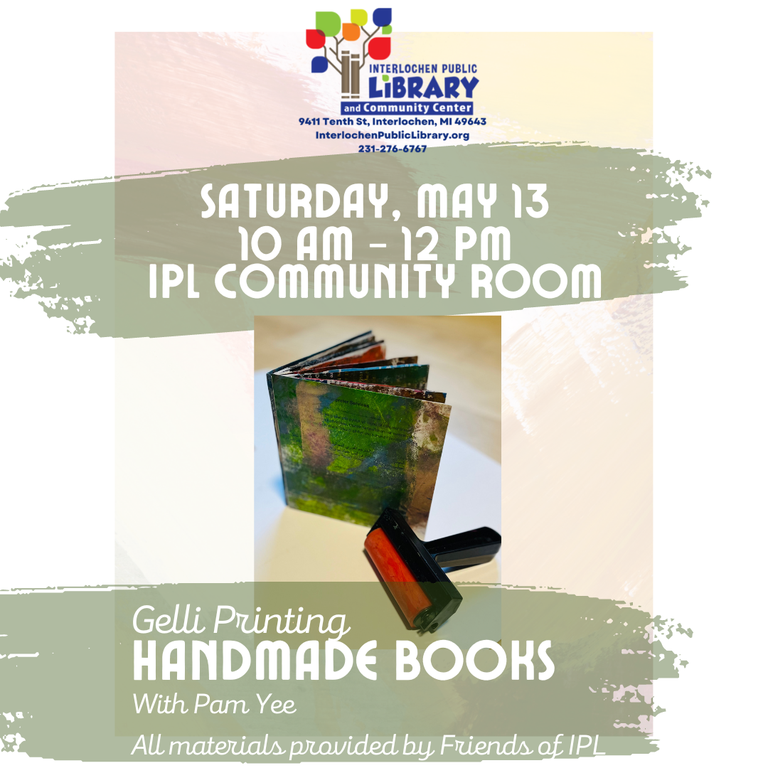 Gelli Printing Handmade Books. Saturday, May 13th, from 10 am to 12 pm in the Community Room.
IPL invites the community to join instructor Pam Yee in creating handmade books using gelli printing! Pam will demonstrate how to create colorful pages with this popular method of printmaking. Participants will also construct a simple binding to assemble a beautiful handmade book to take home. The Friends of IPL provides all materials. No registration is required.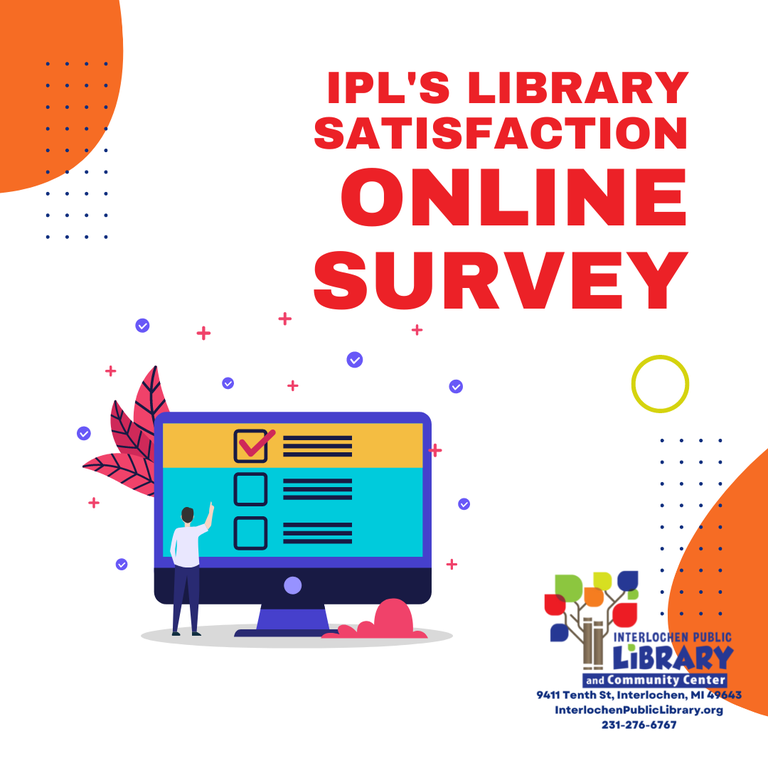 As your library director, I strive for balance and fairness. Providing appropriate accommodations for our community and patrons is my major priority. But, sometimes, I need a little help. So, I invite you to take a library satisfaction survey. The survey should take less than ten minutes to complete, and your thoughtful responses will help me and my staff plan, organize, and provide even better services and resources. Click HERE to access the survey.