Director's Message
We are pleased to provide this online presence for your convenience and enrichment.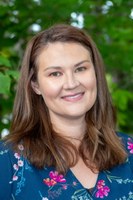 November's Director's Message 
Sharing Together 
Our instinctive desire to belong requires a shared space to develop reciprocal relationships—a place where you can come in and enjoy. But, free and accessible gathering places are not easy to locate, and not everyone knows where to look for one. Luckily, Public Libraries are community anchor institutions where programs require no money to enter—Zip, zero, nada. 
"Feeling lonely is as painful as being wildly hungry." --J. Cacioppo, James Fowler, and Nicholas A. Christakis
A sense of community and belonging is increasingly important as we enter the cold winter months, as isolation and feelings of being alone can creep up. IPL's community events are where families and friends can gather, catch up, and enjoy time together without the expectation of payment. Things can get a little noisy and messy and might upset our routine. Sometimes we have to share this space, while we can enjoy solitude at other times. But I promise it's all for the sake of community and togetherness. 
Our Make a Gift Craft Frenzy was a considerable success despite the snowglobe weather outside. Families and community members came and enjoyed the art of making gifts. For some, mistakes while crafting with merriment; for others, errors presented a learning opportunity. Things don't always work out. Luckily, there is always glitter. 
Coming in December:  
December 12th, 3:30-5 pm H&W Be Healthy, Be Active Community Cooking Workshops with chef Susanne. We show a few techniques, and then they cook the whole recipe from start to finish. It's hands-on learning. The workshops include supplemental materials for living your best life. Registration is required. Call IPL to sign up. December is healthy chili and healthy refried beans. 
Reader Chef, Jr is December 15th from 4-5 pm. Classes are open to children aged 10- 14 years old. Registration is required. Kids will learn a new recipe each month and be able to cook the meal from start to finish. It's a way to give the kids life skills and have fun. December is Pizza. Call IPL to sign up.  
Community Christmas Caroling with Gwen Willson is December 10th from 2-4 pm. This event will include a sing-along, story reading, gingerbread house making, and holiday merriment. The Friends of IPL provides materials and volunteers.  
Santa is Coming to Tot Time on December 22nd. Santa will arrive at 10 am. Families are welcome to join these tots for a special visit to IPL's Tot Time.  
The Friends Holiday Book Sale starts November 29th and is available through the end of December. All proceeds benefit from programming and services at IPL.